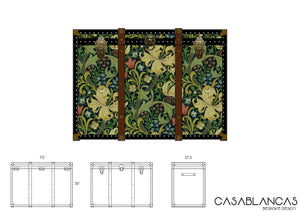 Bespoke CASABLANCAS MORRIS Wallpaper Coffee Table Steamer Trunk: Morris GLIN
Regular price £540.00 Sale
ready to be shipped within 2-3 weeks
bespoke dimensions: 27.6'x19.7'x14.8' (70x50x37.5 cm)
bespoke inside custom: Deep Red
MORRIS Wallpaper Steamer Trunks are designed and made in London. Our Vintage Style furniture is customised with William Morris Wallpaper. Morris Trunks are Statement pieces of Elegance for your Precious Home. Imagine it highlighting your Living or inside your child`s bedroom, decorating your office. 
HOW IS MADE Outside: Precious William Morris Wallpaper. - Inside: Italian Manuscript or Original AM Florence pattern on laid paper. - Trunks are treated with clear waterproofing varnish.
Each piece of the collection is handmade so it's unique. 

MADE TO ORDER This Collection is Made to Order, the item in the picture is just a sample piece. Your Steamer Trunk will have same dimensions, same shape, hardware and type of custom except for slight differences such as the composition of the pattern.
IDENTITY CARD
name: Morris GLINdesign: AM Florenceyear: 2021